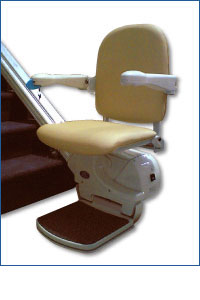 Sterling 950:
The Sterling 950 is the first of four sterling stair lifts. Sterling Stair lifts is owned by Minivator Limited, one of the world's biggest and fastest growing stair lift manufacturers. The company has a wealth of experience with 30 years of stair lift design, manufacture, installation and maintenance, and sells its lift in many countries around the globe. All Sterling stair lifts are designed and manufactured in the UK to the highest safety standards.
The Sterling 950 stair lift has been designed to be both easy on the eye and the purse. It's loaded with features and benefits usually found on lifts costing significantly more. Some of those features include a large, comfortable swivel seat which will transport you in comfort on your stairs and no matter where you park the lift, the constant charging feature means it is always ready for the next journey. The slim aluminum track takes up minimal room on the stairs leaving room for others, which is important if you have family or friends that will require use of the stairs.
Because of its design, the sterling 950 can be installed in no time at all. The simplicity of a straight stair lift is that it is used in elements that do not require turns or bends; making it cost effective and simple to use. The track is very slim and mounts to the stairs which allows for a firm foundation as well as a wider pathway for passer-byers.
Another nice feature about the 950 is that the chair folds up when not in use so that it takes up minimal stair space. It is also battery operated so it will continue to work in the event of a power failure. The battery receives a continuous charge from the mains supply. Regardless of where the stair lift is parked on the track it will always keep a continuous charge thanks to our charging strip which runs the length of the track.
The stair lift is also protected by a key switch… you can think of this like a car… unless the key is in the ignition, you will not be able to use it. You operate the 950 by using a toggle switch which is located on the armrest. On arrival at the top of the stairs the seat is turned to face the landing so that you can get on and off your stair lift with ease. All in all the Sterling 950 is a great Stair lift for any straight staircase.
Shop for a stairlift like you would a mortgage or a car. When you request help from us, we provide you with quotes from 3 different stair lift companies. StairLiftAnswers.com is the only independent referral source on the net. For more information on stair lifts and 3 quotes - Get Price Quotes by filling out our online form.